Total MD is pleased to announce the addition of Johannie Francois, MMS, PA-C to our Fort Lauderdale – Cypress Creek location.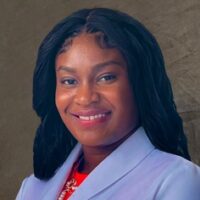 Johannie Francois is a board-certified Physician Assistant licensed in the state of Florida. In 2017, Johannie graduated Magna Cum Laude from the University of Florida with a Bachelor's degree in Microbiology and Cell Science.
Immediately, following her undergraduate education, Johannie continued her education at Miami Dade College to pursue a career as a Physician Assistant. In 2020, Johannie graduated with a Bachelor of Applied Science in Physician Assistant Studies from Miami Dade College with an affiliated Master of Medical Science from Saint Francis University.
Johannie was born in Haiti and came to the United States at the young age of 13. She is fluent in Haitian Creole, French, and English. Johannie is married to the love of her life. In her free time, she enjoys spending time with family and friends, traveling, playing tennis, and volunteering to help those in need through communities in South Florida.
Johannie is proud to be a part of the clinical team at TotalMD and being such an important part of patient's lives. She has a passion for advancing the quality of healthcare services, advocating for patients, and helping families through healthcare, wellness, and preventative medicine.