Total MD is Pleased to Announce the Addition of Antonio Abreu, DNP, ARNP, NP-C to our Forest Hill Location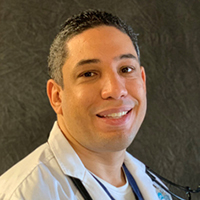 Antonio Abreu, DNP, ARNP, NP-C is a graduate of Nova Southeastern University, where he received his Bachelor of Science in Nursing degree in 2012. He then received her Masters of Science in Nursing Healthcare Systems Leadership in 2016 and Doctor of Nursing Practice degree from Palm Beach Atlantic University in 2017 and is currently a Board Certified Advanced Registered Nurse Practitioner by the Florida Board of Nursing.
Antonio is currently an active member of the American Academy of Nurse Practitioners (AANP), The Nurse Practitioner Council of Palm Beach County, and the Sigma Theta Tau International Honor Society of Nursing.
Antonio is fluent in English and Spanish. He enjoys working in the Urgent Care environment and has a passion for assessing, diagnosing and managing acute illnesses, common conditions, as well as, preventative medicine. He also has a passion for innovative technology such as computers, electric vehicles, medical devices and more.
Antonio enjoys traveling and spending time with his family and friends. He currently resides in Palm Beach County with his wife and son.