New MRI unit, MAGNETOM Espree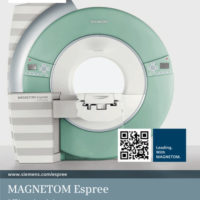 Total MD is pleased to announce the exciting details of the new upgraded MRI unit IN our Forest Hill Blvd. location. This new MRI comes with a 70 cm bore, offering a more comfortable experience for patients— especially larger individuals, children, and those prone to claustrophobia. This next‐generation MRI helps reduce exam time and the improved patient comfort features result in a cooler, quieter experience while delivering both uncompromised image quality and high productivity. The Magnetom Espree 1.5 Tesla field strength is the industry's best‐known and most‐widely used. Its bore diameter and field of view make MR scans accessible to more patients who need them.
70 cm Open Bore
Feet-first exams for nearly all MRI procedures
60% of the examinations with head outside the gantry
Obese patients up to 250 kg or 550 lbs
Shorter scan times
Diffusion Tensor Imaging (DTI) is an MRI-based neuroimaging technique which makes it possible to estimate the location, orientation, and anisotropy of the brain's white matter tracts.
In addition, we are now able to perform a variety of exams such as;
Breast Scans
Magnetic Resonance Venography (MRV)
Cardiac MRI
Learn more about Magnetom Espree and Clinic Espree.