New MRI unit, MAGNETOM Espree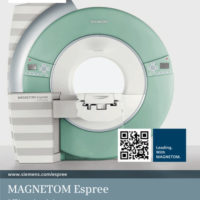 We have a new MRI unit called Magnetom Espree that includes a 1.5T MRI Open Bore scanner that we are bringing to the Forest Hill location. Below are some more key features:
70 cm Open Bore
Feet-first exams for nearly all MRI procedures
60% of the examinations with head outside the gantry
Obese patients up to 250 kg or 550 lbs
Short scan times
Diffusion Tensor Imaging (DTI) is an MRI-based neuroimaging technique which makes it possible to estimate the location, orientation, and anisotropy of the brain's white matter tracts.
However, there are many other tests that we will now be able to perform with this new machine such as;
Breast Scans
Magnetic Resonance Venography (MRV)
Cardiac MRI
Learn more about Magnetom Espree and Clinic Espree.